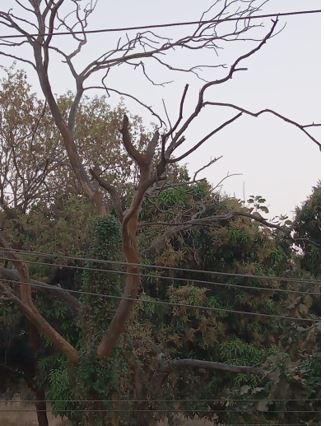 Ugliness Among Beauty: A Revealing Realisation
Introduction
We have heard beauty among ugliness, in fact, we have seen beauty among ugliness- A Lotus. The lotus blooms among mud and dirt but creates a picturesque beauty, but what if we come across the other way round? A dull piece among a beautiful backdrop. Does it have significance? What objective will the object fulfil?
New Beginning
A year ago, we shifted to a new place. I was excited about the new beginning a fresh apartment, a fresh locality. Here, we have huge windows in our rooms that look outside towards a spinney. Beautiful, tall mango trees, Palash trees with beautiful red flowers, and Sal trees with their huge leaves add beauty to this thicket. I have set up my working station near one of these windows to enjoy the scenery.
It fills me with hope and positivity. It became my routine to wake up in the morning, sit on my working station with a cup of tea- to look at the sun, feel its energy filling my day and then look at the coppice for its greenery.
But among these, there's a tall, withered tree. This tree has no leaves but stands magnanimously reaching towards the sky.
I didn't like looking at the wilted, brown tree so early in the morning, it used to sore my eyes and somewhat gave me discouragement. I used to think that why the owner of the land has not cut down this tree. What purpose does it serve? It adds ugliness to the beautiful garden.
New Realisation
A year has passed by now, a few days back I was contemplating, looking outside the window not seeing specifically when I started observing this lone tree and a revelation dawned on me.
What I observed was that some climbers have taken support of this tree and have made this tree look green again, I even observed some small ants and insects have made their homes on the tree's trunk and branches.
Even some exotic birds were sitting on the branches basking in the sun on this winter morning. I started realising some amazing thoughts.
This lone tree serves a purpose- a purpose to support other lives, be a backbone for others to climb up, a home for the homeless, and a hangout place for those who want to bask. And that got me thinking about life.
New motivation
There are people in our lives who like this lone tree are standing there, supporting us without any recognition. They might be the people in our offices doing minor jobs as an assistant, a peon, a watchman and in our homes, sisters or brothers or even a friend. Trivial contribution yet incredibly prominent.
Today let us celebrate the people who anonymously support us. Showing them token of appreciation and gratitude, let us make them feel that they are not forgotten.
This lone tree has also taught me a valuable lesson, to be agile and upright in any situation.
When we don't have anything special going on in our own lives, when we are at the loneliest point of our journey, we still can motivate others, hold their hands, supporting their backs. Not feeling demotivated but freestanding and embracing when we face the harsh weather of life.
We can be like this solitary tree, which is essential for the survival of the ecosystem and bit by bit we can make the world worth cherishing.